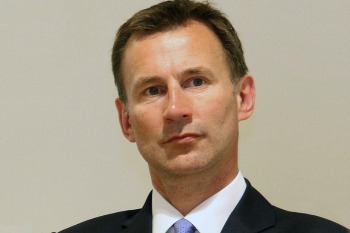 The public should be encouraged to take more responsibility for their own health and looking after elderly relatives, according to health secretary Jeremy Hunt.
Speaking at the LGA annual conference, Mr Hunt is calling for a new social contract between the public and health and care services so that personal responsibility sits alongside system accountability.
'The best person to prevent a long term condition developing is not the doctor – it's you. Which is why last year, following changes to the GP contract, the number of GPs offering their patients online access to a summary of their medical record has risen from 3% to 97%,' he said.
'This needs to be the start of a much bigger change where everyone feels firmly in the driving seat for their own health outcomes, and it's an area where the NHS and local government can work together.'
He also announced the Government is to develop a new Carers' Strategy to support new and existing careers. He said: 'By looking at best practice from around UK and the world, it will seek to answer the big question: what do we need to do as a society to support people who are caring now, and crucially, for the millions who will have a caring role in the future?'
Mr Hunt also used his speech to highlight the number of elderly people living alone, pointing to LGA research that showed 2,900 council funded funerals took place in 2011 in England.
On the issue of health and social care integration, he announced that the Government was launching a set of unified metrics to see how integration is working across the country. Published quarterly, the first set of metrics will be published in December.