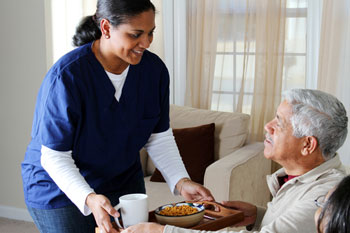 There is a worsening problem of people remaining in hospital after their immediate medical condition has been treated. In 2016/17 there were 2.3 million delayed transfers of care days in England. This was 25% higher than the previous year and cost the NHS an estimated £173m.
Then the number of bed days lost increased in the second quarter of 2017-18 compared to the first. Most of the patients who are subject to delays are elderly people waiting for appropriate packages of ongoing care in the community.
The problem requires a step change in approach and not just within the NHS. Increasingly Clinical Commissioning Groups (CCGs), local authorities and care providers are working together in initiatives to provide Intermediate Care solutions.
Intermediate Care is a multi-disciplinary service providing support and rehabilitation to people whose condition has been stabilised, enabling their transfer from hospital to the community or avoiding unnecessary admissions.
The organisation I represent, Four Seasons Health Care, is the largest independent- sector provider of intermediate care, currently with 14 services working with CCGs and local authorities across England, Scotland, Wales and Northern Ireland. The clinical teams typically may include physiotherapists, occupational therapists, intermediate care nurses, intermediate care matron, social workers and carers, with GPs on call.
Intermediate Care frees up beds in acute hospital wards and so enables better patient flow. Patients are given the therapeutic interventions needed to support their recuperation in a more comfortable place with evidence showing that those who use the service usually have a quick recovery with a higher likelihood of returning home and being more independent. The average length of stay in our centres is 25 days. 70% of patients are able to return home afterwards and 93% of patients maintain or improve their dependency levels.
Although the primary purpose is to alleviate the problem of delayed discharge from hospital, there is also a big cost saving benefit to the NHS with the cost of Intermediate Care being about a third of the cost of similar recuperation care in an acute ward.
There are additional costs of delayed discharge that are less apparent, but no less significant, such as the cost of scheduled operations being cancelled and the human cost of people having to wait longer for the treatment they need. There is also evidence that delayed discharge puts people, and particularly the elderly, at risk of infections, loss of mobility, isolation and psychological distress, which can cause problems for their follow-on social care.
While home-based care is the least expensive, there is growing evidence to suggest that bed-based care supports improved system and individual outcomes. According to the National Audit of Intermediate Care 2017, outcomes of care have shown that with home-based care, 72% of patients improved, 21% maintained and 7% deteriorated, but the data for bed-based care, as in an Intermediate Care centre, was better with 85% of patients improved, 8% maintained and 6% deteriorated. This also has to be seen in the context that patients who transfer from an acute ward to an Intermediate Care centre in many, or most, cases could not be cost-effectively supported in their own home immediately from hospital and they need the Intermediate Care centre as a stepping stone on their care pathway.
With an ageing and more complex and dependent population set to grow in the coming decade the need to expand intermediate care services is greater than ever and it is more urgent. Continued demand for patient care, particularly from older people with more complex health needs, and a lack of resources are having an impact. A predicted social care funding gap of £2.5bn is also creating pressures on the independent care sector, which is already reaching crisis point due to factors such as lack of investment, the National Living Wage and a chronic national shortage of nurses.
Paul Hayes, national director of commissioning operations at Four Seasons Health Care.