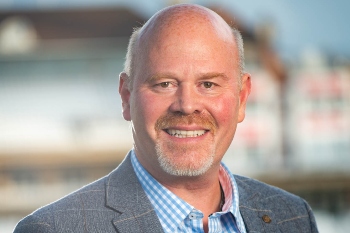 Digital transformation has been a buzzword in social care for some time and the pandemic has accelerated the adoption of new technology at many touch points along the care pathway.
In 2020, NHSX's vision highlighted: 'In social care, better use of technology and data has the potential to support people to live in their own homes for longer, enabling providers to deliver better, smarter care, and local authorities to plan and commission services more efficiently.' They acknowledged that to some, achieving this may seem "impossibly distant" – but that doesn't have to be the case.
Putting the service user at the heart of care delivery is critical to ensuring the journey through their individual care pathway is joined-up, outcomes-focussed and is of a high quality. With an increase in multi-disciplinary collaboration, technology is the obvious choice for keeping people connected and enabling the best possible outcomes for each individual.
There are clear benefits to society and individuals if we can stop people from getting to the point where they need care services. AI and Machine Learning offer exciting potential to support predictive analytics. The power to assess health issues remotely and intervene as risks escalate allows for better resource management and improved outcomes for individuals.
Health wearables are becoming a popular way to enable individuals to take control over their wellbeing, with the reassurance that healthcare practitioners will be alerted to any escalating risks.
During lockdown, many vulnerable people led largely sedentary lifestyles, and with the potential for this to continue, care professionals need to be able to stay connected, identify risks and take appropriate, timely action from afar. Cardiff Council has been using our ARMED falls prevention technology as part of its telecare response service and is alerted to any potential risk trends. This offers the potential to put additional support measures in place and reduce emergency care costs and hospital admissions.
When the time comes and support is required, it fundamentally all comes down to the right high-quality care being delivered to the right person at the right time. Real-time information available to the relevant healthcare professionals can support decision making and empower those delivering care to ensure this happens.
A service user care package typically sits within a larger care pathway and complex care services now involve multiple teams that need to work together in a joined-up holistic way. Visibility of a person's digital care record and their progress is vital and to facilitate this you need system interoperability which joins up data and securely shares it across services.
Local authorities tell us that the ability to complete care plans, assess risk, capture personal preferences, manage medication and feed everything back digitally is key to delivering person-centred care. It also empowers them with new insights into their service delivery.
Taking a step back it makes sense that if we have a good understanding of what is happening at the macro level, we can be more confident that every individual will get the quality care they deserve. That's why having accurate, up-to-date information about care markets is so important. Securely bringing together data from multiple sources which can be easily analysed and benchmarked to support market sustainability and identify risks is now more important than ever. We help local authorities turn social care data into social care intelligence, and it's those actionable insights that make a difference.
To share our understanding and experience of putting people at the heart of digital care transformation we're hosting a series of short webinars between 18-30 March. To register, visit HAS Technology's webinar booking page: https://www.hastechnology.com/webinars?utm_source=mj&utm_medium=sp&utm_campaign=person%20centred%20care
We've also brought our knowledge together in a new white paper, 'How do we put people at the heart of digital care transformation?'. This includes real-life examples of how innovative technology is supporting strategic service management, improving conditions for the workforce and ultimately improving quality and outcomes for individuals. Click here to read the white paper.
Jason Harries is Managing Director of HAS Technology
Jason has over 20 years' experience in healthcare informatics and has worked with almost 500 healthcare organisations worldwide. As the health and social care sector continues its integration journey he's passionate about the difference technology can make to helping people remain independent at home and ensuring the delivery of quality care.
This article was sponsored by HAS Technology