Social distancing is now part and parcel of everyday life for us all. Local authority staff, suppliers, visitors, and members of the public overall, are all expected to take certain measures to protect themselves from COVID-19.
In other sectors, such as retail, these measures include using floor markings to make sure shoppers keep a safe distance from one other and to follow a one-way system to minimise interactions with others.
Measures like these are proving to be highly effective within the world of retail and variations of it are being applied just as effectively to public spaces, such as local high streets, play areas and parks, too.
Making social distancing happen in the public domain:
Identifying the changes
In our experience, there's plenty of scope to adjust existing set-ups so that they factor in COVID-19 social distancing restrictions. This involves taking a step back and reviewing how public spaces are used from a brand new perspective.
Carefully-considered landscaping is one of the most effective and attractive ways of making areas social distancing-compliant. From bespoke planters and well-designed pathways that guide people along specific routes, smart landscaping can be used to create new and redefine existing boundaries, as well as establish clear pathways for everybody to follow.
Funding the changes
However, making any form of change obviously comes at a cost. But it's one that local authorities can get financial support for through the Reopening High Streets Safely (RHSS) fund. More than £50m is currently being made available to councils from the European Regional Development Fund as part of the initiative, which is aimed at safely re-opening high streets and other commercial areas across the UK.
The funding can be used for a range of practical safety measures, which include signage and temporary barriers, to help people safely use and move through public spaces.
The challenges of COVID-19 landscaping for councils
How can councils help maintain people's safety, minimise anxiety and make sure the public spaces they're responsible for are still pleasant and welcoming?
All of these challenges are equally important, but the importance of creating the right environment cannot be underestimated. After all, the right physical environment can boost mental health and make people feel happier.
Incorporating social distancing into public spaces may present multiple challenges for councils, but there are multiple landscaping methods that can be used, many of which are already being successfully used in spaces large and small.
Both Malton Town Council and the Soho BID Group in Birmingham have found that planters are an attractive and cost effective way of helping to control traffic and parking. There's no reason why they can't also be used to help manage visitor numbers and create one-way systems while brightening up public spaces at the same time.
The importance of landscape design
There's no denying the positive impact of well-designed landscapes. Paying attention to those finer details can aid stimulation, as well as meet social distancing rules. The good news is, most public landscaping solutions can be adapted to cater for change, even if it just means making subtle tweaks here and there. For example, widening footpaths so that they can be used by two people at a time and wheelchair users. Incorporating several stopping points along the way and plenty of seating. These measures allow councils to create space between passers-by and a flow of traffic that is much easier to manage.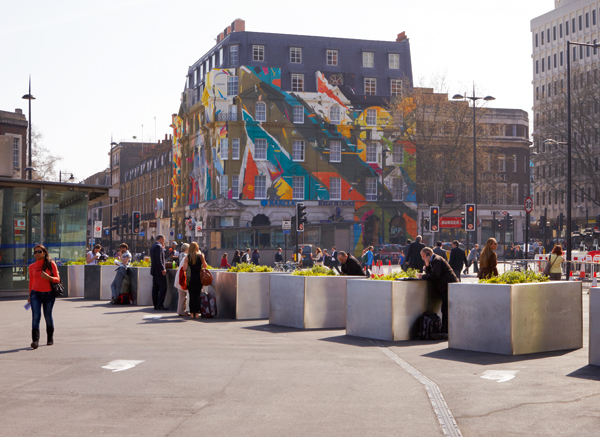 Council landscaping – some best practice examples
Flexibility and creativity is key. One size-fits-all solutions aren't an option, as one public space is very much different to the next.
However, there are some best practice landscaping measures that can be implemented to achieve immediate success, particularly in relation to providing social distancing solutions. They include:
1. Signs
Can be used in so many different ways - from reminding people to keep two metres apart to implementing a one-way system, indoors or outdoors, to control the flow of people and minimise contact.
2. Planters
Like signs, can be used in lots of different ways. For example, they're an aesthetically pleasing way of restricting access to certain areas, i.e. blocking access to a narrow outdoor area or providing visual cues or divisions in outdoor spaces. They can also cause less anxiety than installing conventional barriers, which aren't as visually appealing plus, they can easily be repositioned around sites.
3. Barriers
Aren't just a permanent fixture. Portable barriers are a great temporary solution; they're also an easy and cost effective way of restricting access to certain areas and implementing one-way systems.
Multiple challenges – one landscaping solution
Landscaping has the ability to help council teams make social distancing happen relatively easily and enhance their environments and people's wellbeing at the same time. And it's an investment that doesn't just have to be made for the here and now; it's an investment that can provide widespread benefits in the long-term and can continue to be built upon.
Saul Huxley is organic development director at idverde