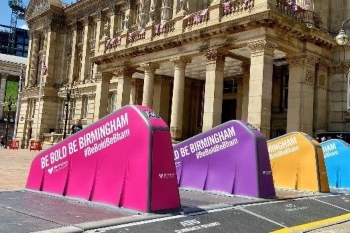 While weaponization of vehicles is rare, hostile vehicles can pose a significant threat to both people and assets. And terrorism is not the only risk. Thieves and protestors can also use vehicles to damage properties. Then there is the issue of drink- and drug-driving and, of course, simple human error.
The risk may be rare, but it is real. There needs to be a considered understanding of the nature of that risk and how it can be mitigated in a way that is both effective and proportionate. For example: in Birmingham, temporary hostile vehicle mitigation (HVM) has been installed ahead of a summer of visitors, with many attending big-draw events. For Birmingham City Council, this provides essential protection without causing unnecessary disruption.
Certified and tested hostile HVM systems that have been correctly specified and installed are a practical solution to mitigating risk, but how can local authorities and event organisers be certain that the system(s) chosen are suitable and proportionate? And which other elements should be factored into making the right choices?
Following an incident or in anticipation of potential increased risk, it's not uncommon to see a knee-jerk response, in the name of due diligence. But, while putting measures in place to reassure stakeholders and deter attacks is a positive step forward, only a detailed consideration of risk, coupled with a holistic approach to tailoring the right solution will really provide peace of mind that people and assets are protected.
The anticipated UK Protect Duty legislation looks likely to recommend a threats, vulnerabilities and risk assessment (TVRA) approach to identify risk. This assessment should be carried out by experts that can offer a turnkey approach to risk assessment, specification, supply, installation, deployment and servicing of HVM equipment, so that all due diligence can be handed to a single trusted and quality-assured partner.
The TVRA process involves an analysis of the threats for a particular location, building, and brand; threats that may change. TVRA should not be seen as a one-off exercise, therefore, but as a process that needs to be refreshed. Threats may include a change in the terror alert level, a revised road layout or threatened direct action from groups.
Threats should be considered in the context of the vulnerabilities inherent in a site's location, layout and structural features. For example: potential vehicle access routes, existing security arrangements or controllability of all entrances and exits.
Vehicle dynamics analysis as part of a TVRA process enables the potential size and speed of hostile or errant vehicles to be considered alongside threats and vulnerabilities in order to assess risk. Only then can an optimised solution be designed to mitigate as much of that risk as possible.
There are other factors at play here too, of course, relating to safety, practicality and aesthetics, because the right solution needs to enable the site and its occupiers to continue functioning as normal. Consequently, there needs to be a discussion about whether the HVM protection needs to be temporary, perhaps to address a specific risk, semi-permanent to provide flexibility, or permanent. Aligned to this is a consideration of whether the solution needs to be reconfigurable – are there varying levels and types of risk at different times of day, or times of year, for example?
Access is also important. The purpose of an HVM system is to protect people and assets from vehicles, but how will it affect pedestrian access and is a pedestrian permeable solution required for some or all of the installation?
The importance of aesthetics should not be underestimated either. The goal is to help people be safer and feel safer; not to make them feel under threat. It's possible to select HVM systems that can be customised, not only to look less invasive but also for branding, wayfinding, advertising or information.
With a TVRA approach, a safety specialist can recommend the most appropriate solution to mitigate risk for the site in question, but may also provide an alternative solution, that takes into account any practical issues or stakeholder concerns. When choosing between the options, it is important to understand the risk gap and make an informed, pragmatic choice, which is why it's vital to work with a specialist.
Deborah Ainscough is founder and CEO of Crowdguard