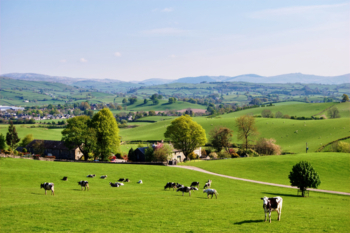 Campaigners are warning that a proposal to build one million houses between Oxford, Milton Keynes and Cambridge would result in the loss of an area of countryside larger than Birmingham.
Last September, the Government announced its preference for a new expressway that would run between Oxford and Cambridge, called the 'Oxford-Cambridge Arc.'
The National Infrastructure Commission (NIC), which supports the scheme, has recommended building one million new houses in the Arc by 2050 in order to 'boost economic growth'.
Whitehall will accept this recommendation on Monday, which will give it a force in planning policy equivalent to the Government's National Planning Policy Framework (NPPF).
However, the Campaign to Protect Rural England (CPRE) has calculated there are 230,000 homes currently proposed or being built within the Arc, so in order to achieve the NIC's target an increase of 330% would be required.
There is only capacity for another 50,000 houses on previously developed, or brownfield, land, the campaign group says, which means the majority of these new homes would be built on areas of open countryside.
In total, CPRE has worked out that 27,000 hectares of greenfield farmland and woodland – an area the size of Birmingham – could be lost to development.
If the Government agrees to the NIC's proposals, the CPRE says, then this will mean this major project would have gone through with no formal public consultation, environmental assessment or parliamentary enquiry.
'If given the green light, this development will change the face of England's countryside forever,' said Paul Miner, head of strategic plans and devolution at the CPRE.
'Yet no formal assessment of the environmental impact it will have has taken place. Whilst there will be a need for genuine affordable housing to meet local need in the area, the scale of these proposals is completely unacceptable.
'Despite costing at least £5.5bn in public money, there has been no formal public consultation around developing the Arc. The lack of debate equates to a major, and troubling, democratic deficit at the heart of the proposals.'
'Rather than taking a "growth at all costs" approach, it is imperative that a Strategic Environmental Assessment is conducted,' continued Mr Miner.
'The assessment must look at the impacts of both the proposed housing and transport development on the countryside, people's health and well-being, and climate change in a holistic manner.
'Critically, we need much stronger commitments to protecting and improving the unique and precious rural landscapes in the Arc.'
Responding to the CPRE's findings, secretary of state James Brokenshire said: 'We are committed to protecting, and maximising opportunities to enhance, our natural environment as we work in partnership with authorities between Oxford and Cambridge to plan much-needed, high quality homes.
'By working together, we have a once in a generation opportunity to strengthen rural economies, enhance the environment and benefit communities.
'We are committed to our 25 Year Environment Plan, and this area will be a flagship for maximising opportunities to enhance the area's natural environment.'