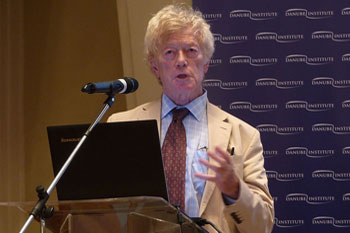 The Government has sacked its housing advisor Sir Roger Scruton after the conservative philosopher appeared unrepentant about his claims that Hungarian Jews are part of a "Soros empire".
Sir Roger, who was appointed the chair of the Building Better, Building Beautiful Commission last year, has also argued that Islamophobia is a 'propaganda word' and that 'each Chinese person is a kind of replica of the next one'.
The philosopher and author of many books on art, architecture and religion, made the comments in an interview published yesterday in the New Statesman where he was asked about a speech he gave in Hungary – a country ruled by the right-wing nationalist, Victor Orban.
In that speech, entitled 'The need for nations', Sir Roger said: 'Many of the Budapest intelligentsia are Jewish, and form part of the extensive networks around the Soros Empire.'
The philanthropist George Soros is regularly criticised by the far right because he promotes democracy and human rights through his Open Society organisation.
This criticism, repeated by Scruton, is reminiscent of the anti-Semitic trope that Jews are 'rootless cosmopolitans' determined to undermine the Christian nation.
Responding to criticism of his speech, Sir Roger Scruton said that he was 'offended and hurt' by suggestions that he was anti-Semitic or 'Islamophobic' [his quotation marks].
'If people actually read my comments regarding the interplay between George Soros and Hungary they will realise they are not in any way anti-Semitic, indeed quite the opposite.
'Only two years ago I supported George Soros by making representations to Prime Minister Orban's regime to keep open the Central European University so that intellectual freedom could continue to flourish in Hungary.
Defending his remarks, Sir Roger told the New Statesman: 'Anybody who doesn't think that there's a Soros empire in Hungary has not observed the facts.'
He also denied he was Islamophobic, a term he claims was invented by the Muslim Brotherhood, before asserting that, 'The Hungarians were extremely alarmed by the sudden invasion of huge tribes of Muslims from the Middle East'.
An MHCLG spokesperson said: 'Professor Sir Roger Scruton has been dismissed as Chairman of the Building Better Building Beautiful Commission with immediate effect, following his unacceptable comments.
'A new chair will be appointed by the Secretary of State, to take this important work forward, in due course.'