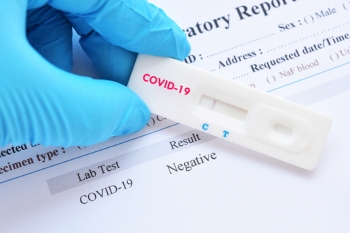 All households of school aged children will get two rapid tests per person, per week, the Department of Health and Social Care has announced.
Families and households with primary school, secondary school and college age children, including childcare and support bubbles, will be able to test themselves twice every week from home as schools return from 8 March.
The Government's roadmap, which aims to lead the country out of the national lockdown, will begin by trying to help all children and students return to face to face education in schools and college from 8 March.
According to the roadmap, secondary school and college students will be tested twice a week, receiving three initial tests at school or college before transitioning to twice weekly home testing.
Primary school children will not be regularly asymptomatically tested due to low levels of transmission between younger aged children but will continue to need to come forward for tests if they have symptoms.
In addition to this, the Government has confirmed twice-weekly testing using rapid lateral flow tests which will be given free to all families and households with primary, secondary school and college aged children and young people, including childcare and support bubbles.
Twice-weekly testing will also be offered to adults working in the wider school community, including bus drivers and after school club leaders.
Health and social care secretary Matt Hancock said regular testing is 'another tool we are making available to help keep schools safe.'
'We know that one in three people with COVID-19 don't have any symptoms, so targeted, regular testing will mean more positive cases are kept out of schools and colleges,' he said.
'As we continue to roll out the vaccine, testing offers us a way forward. Sustained and repeated testing for people without symptoms has a critical role to play as sections of society are reopened by driving down transmission rates.
'By everyone playing their part and getting tested regularly, vital public services, workplaces and educational settings can stay open and running, and we can move closer to a more normal way of life.'
Professor Yvonne Doyle, medical director at Public Health England (PHE), commented: 'These rapid tests help uncover hidden cases of the virus and break chains of transmission, stopping outbreaks before they occur.
'Combined with other protective measures, they are a vital tool to help us lower infection rates and ensure that they stay low. I would encourage all eligible households to take up the offer of twice weekly rapid testing – it's quick and painless and could help save lives.'