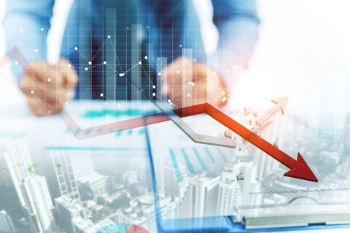 Russia's invasion of Ukraine is likely to cause typical household incomes across Britain to fall by 4% in the coming financial year, think tank says.
The Resolution Foundation argues that the war in Ukraine is going to lead to wider inflation and a rise in energy prices, which will in turn contribute to the cost of living crisis.
Inflation could peak at 8.3% this Spring – or even exceed the 8.4% rate in April 1991 that is the highest seen since 1982, according to the think tank.
Inflation across 2022-23 as a whole could be 7.6% – significantly above the 6.2% forecast by the Bank of England just last month.
The Resolution Foundation's annual Living Standards Outlook warned that the forecast 4% fall in the average household income – a fall of £1,000 per household – will be 'the sharpest fall since the mid-1970s'.
The think tank also warned that the current system of uprating benefits, which are increased in April in line with CPI inflation the previous September, means 'putting poorer households through a living standards rollercoaster over the next two years instead.'
During this financial year, there will be a real-terms cut in the value of benefits of over £10bn. High inflation will then drive a far higher increase in benefits next year with a rise of around 7% in April 2023.
The think tank urged the Chancellor to address this in the Spring Statement by increasing benefits by a further five percentage points this April (an 8.1% rise) and reducing their increase by a similar amount the following year (2023-24). Benefits that can't be re-uprated at such short notice should increase in October at the very latest.
'Britain has stepped out of a global pandemic, and straight into a cost of living crisis,' said Adam Corlett, principal economist at the Resolution Foundation.
'The tragic conflict in Ukraine is likely to further drive up the price of energy and other goods, and worsen the squeeze on incomes that families across Britain are facing. Inflation may even exceed the peak seen during the early 1990s, and household incomes are set for falls not seen outside of recessions.
'For millions of low-and-middle-income families, this inflation-driven squeeze will be made worse by a living standards rollercoaster. Working-age benefits and the State Pension are due to be uprated by just 3.1% next month, at a time when inflation could be as high as 8%.
'The immediate priority should be for the Chancellor to revisit benefits uprating in his upcoming Spring Statement. In the longer term, turning around the UK's relative decline compared to other advanced economies, and reversing our terrible recent record on productivity, is the only route to meeting the living standards challenges Britain faces.'