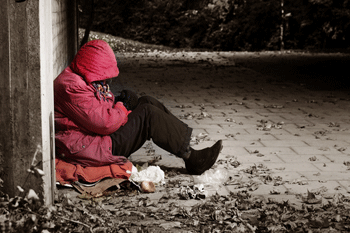 The homelessness crisis and inadequate funding are costing local authorities in London an estimated £200m every year, the capital's councils have warned.
New research carried out by LSE London on behalf of London Councils has revealed that the implementation of the Homelessness Reduction Act has 'substantially increased' the number of people seeking help from boroughs and the resources required for services.
The capital's local authorities spent over £919m on homelessness services in 2017/18.
However, £201m of this was not covered by central Government grants or councils' housing income, which meant the boroughs were forced to take the money out of their general funds.
Cllr Darren Rodwell, London Councils' executive member for housing & planning, said: 'Even though London faces the most severe homelessness crisis in the country, the capital gets a raw deal when it comes to funding.
'London boroughs are committed to tackling homelessness and making a success of the Homelessness Reduction Act, but this crucial work can't be done on the cheap.
'It's unsustainable to leave London boroughs covering more than £200m of costs from our general funds when our core funding has been reduced by 63% since 2010.
'While we welcome the recent increase in homelessness funding set out in the government's spending round, it does not come close to reflecting the true cost of addressing homelessness.
'The Government must make sure London's hard-pressed homelessness services have the resources they need.'