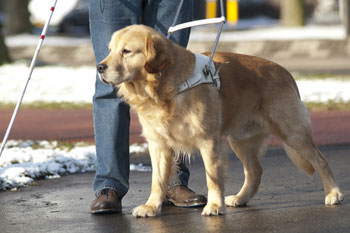 Revolutionary technology trials have allowed visually impaired people to travel on public transport using '3D soundscapes'.
Joint working between charity Guide Dogs, Microsoft and the Future Cities Catapult has led to development of a prototype headset that could 'empower' disabled people and support city visitors and drivers.
The Cities Unlocked project has developed a system whereby beacons transmit data to a headset and pinpoint the user's location. A series of pips in changing patters and frequency help the user adjust direction while commentary provides information on nearby landmarks and places of interest.
It has now helped a visually impaired person to travel independently from their home in Reading to London Paddington station.
Support for the project has also come from businesses and researchers including Nokia Lumia, Arup, the University of Nottingham and the Bartlett Centre for Advanced Spatial Analysis at University College London.
The Future Cities Catapult is now working with several public and private organisations to roll out larger networks of the beacons.
Jenny Cook, head of strategy and research, Guide Dogs, said: 'By working with people who are living with sight loss and developing a deep understanding of the challenges they face, we've shown that the right technology can empower people.'
Claire Mookerjee, project lead urbanism at Future Cities Catapult, said: 'We all find navigation challenging. For tourists, delivery drivers or any other visitor, this research is very relevant – there could be any number of products and services here that can help people and have commercial value.'