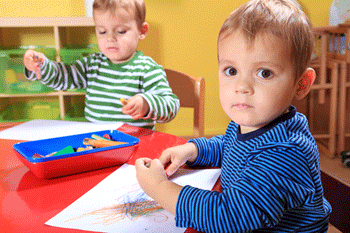 Thinking skills should be made a priority to prepare children for school, according to a new report.
The Early Intervention Foundation says the Government should invest more in health visitors so that they can help with children's cognitive development.
It says failing to act on this would mean disadvantaged children falling significantly behind from the very start of their education.
The foundation's report, Key competencies in early cognitive development: Things, people, numbers and words, says early mental capabilities predict children's later success at school and in the workforce.
It calls for the Government to increase investment in health visitors so that they can provide intensive, high-quality home visiting support to low-income families during children's first two years.
Dr Jo Casebourne, the foundation's chief executive, said: 'Unless we recognise that children's language and their understanding of objects, people and numbers are a basic necessity, we're in danger of the country's most disadvantaged children already being significantly behind their peers when they start school, creating a gap that is likely to widen even further as they get older.
'Increasing investment in health visiting is one crucial way to support children's cognitive development and ensure they have the opportunity to live happy, healthy and productive lives, whatever their circumstances.'
The Early Intervention Foundation's intervention follows a Save the Children study which revealed that the early learning gap between children in poverty and their peers has widened in half of the local authority areas in England.