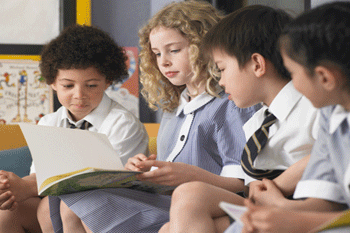 The early learning gap between children in poverty and their peers has widened in half of the local authority areas in England, a children's charity has revealed.
Poorer children starting primary school in 76 out of 152 English council areas are being left behind their classmates in basic skills such as speaking in full sentences, following simple instructions and expressing themselves, according to Save the Children.
The analysis reveals that progress in closing the early learning gap has stalled in 22 local authorities. The gap is shrinking in 52.
The biggest gap is found in the South West, at 22 percentage points — twice the difference in London, where it is 11 percentage points.
The gap has widened in three regions – the North East, East and South West. It is closing in just two – Yorkshire and the Humber, and East Midlands.
Across the country two in five (43%) of all poor children are struggling with basic skills at age five, compared to just over a quarter (26%) of their better-off classmates – a national early learning gap of 17 percentage points.
'Our analysis shows that a lack of support for childcare quality in England is still letting poverty dictate children's chances. Not only that, but the gulf between children in poverty and their peers is widening in many places,' said Steven McIntosh, Save the Children's director of UK Policy, Advocacy and Campaigns.
'Children who start school without the tools to learn find it incredibly difficult to catch up, which risks further locking children into poverty in the future.
'The Government has made welcome commitments to close the early learning gap. But they are ignoring an early years staffing crisis that will continue to undermine children's potential – especially those from disadvantaged backgrounds.
'There is a national shortage of graduate early years teachers who are specifically trained to help children who are falling behind.'