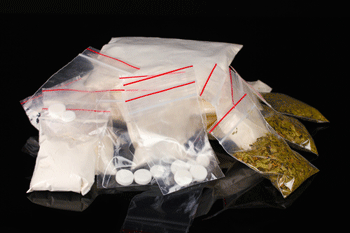 Two public health bodies are calling for the possession and use of all illegal drugs to be decriminalised, warning the 'war on drugs' has failed.
The Royal Society for Public Health (RSPH) and the Faculty of Public Health said although the overall use of drugs has fallen in recent years, drug-related harm has continued to rise.
A new report calls for on the Government to adopt a Portuguese-style model where although drug possession is still prohibited, users are referred to treatment rather than charged with a criminal offence. This is backed up by a poll of 2,000 UK adults, with more than half (56%) agreeing with the proposals.
The report - Taking a New Line on Drugs - argues this could lead to significant reductions in drug-related harm, without increasing problematic use.
Shirley Cramer, chief executive of RSPH, said: 'For too long, UK and global drugs strategies have pursued reductions in drug use as an end in itself, failing to recognise that harsh criminal sanctions have pushed vulnerable people in need of treatment to the margins of society, driving up harm to health and wellbeing even as overall use falls. On many levels, in terms of the public's health, the 'war on drugs' has failed.
'The time has come for a new approach, where we recognise that drug use is a health issue, not a criminal justice issue, and that those who misuse drugs are in need of treatment and support – not criminals in need of punishment.'
The proposal has been backed by the All-Party Parliamentary Group for Drug Policy Reform.
Baroness Molly Meacher said: 'The report of the Royal Society for Public Health is very much welcomed. It argues that the valuable work of health professionals in dealing with the health and social consequences of the harms caused by drugs is impeded rather than assisted by a muddled prohibitionist framework that criminalises some users of psychoactive drugs whilst very harmful psychoactive drugs including alcohol and tobacco remain legal.'