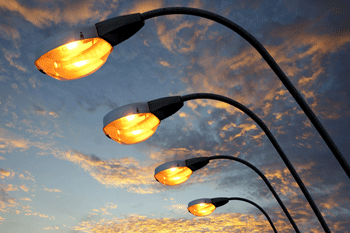 Street light in Harlow are to be switched back on overnight, after a financial agreement was reached between the district council and Essex County Council.
A proposal by Harlow District Council to raise council tax by 1.5% to help cover the £106,000 annual cost of keeping street lights switched on all night has now been accepted by county leaders.
The final arrangement will see Essex retaining responsibility for maintaining the 9,005 local lights while Harlow pays for the additional electricity and arising CO2 emissions.
Essex CC leader, Cllr David Finch said: 'I have carefully reviewed Harlow's plan to finance the streetlights to remain on at night for at least the next four years. This is a good example of devolution in practice, where the county council is listening to local communities and identifying ways to devolve responsibility to district partners.'
Cllr Jon Clempner, leader of Harlow Council, added: 'Keeping Harlow's street lights on responds to the genuine concerns of the community and businesses, and takes into account Harlow's needs as an urban town.
He explained that the council tax increase of around 7p per week per household would ensure keeping the street lights on overnight could be maintained in the future.