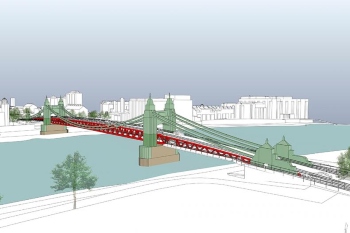 Hammersmith Bridge could potentially reopen for pedestrians and cyclists next summer as a temporary double-decker crossing, the London borough has announced.
The Grade II listed bridge was closed to pedestrians and cyclists on public safety grounds last August after cracks in the cast iron pedestals widened during a heatwave.
Hammersmith & Fulham Council subsequently approached the architects and engineers Foster + Partners and the bridge engineers COWI who undertook a technical study to assess whether a double-decker crossing could be supported by the existing bridge foundations.
The study has concluded that the plan is feasible and will cost around £100m, which represents a £40m saving on the council's current restoration plan.
Council leader Stephen Cowan will discuss the findings of the feasibility study with Foster + Partners and COWI at next week's meeting of the Government's Hammersmith Bridge Taskforce.
The council has also submitted an Outline Financial Plan to the secretary of state for transport, Grant Shapps, for the bridge restoration work to be funded through a toll or road charging scheme.
Early assessments indicate that motorists might pay an average of £3 to drive across the bridge, the ownership of which could be transferred to a charitable trust.
Commenting on the plans to reopen the 134-year-old bridge, Cllr Cowan said: 'Hammersmith Bridge is one of the oldest suspension bridges in the world and the most expensive in Britain to repair.
'So, while we're working to fully restore the bridge as quickly as possible, we're also determined to put in place the necessary governance and long-term funding arrangements that will make sure it is properly maintained well into the next century.'
Photo: Foster + Partners/COWI