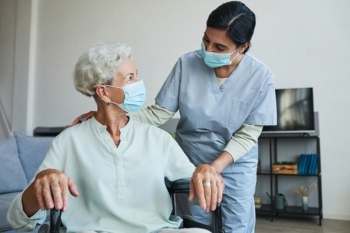 Staff shortages have forced more than of councils in England to ration social care and support, a new survey has revealed.
A new survey by ADASS found half of councils surveyed are taking at least one exceptional measure to prioritise care and assess risk for at least some of their area for some of the time.
This includes prioritising life sustaining care over helping someone get out of bed or completing other activities.
More than one in two directors of social services told the survey they have temporarily limited the care normally provided or have been forced to ask families to step in to help.
Stephen Chandler, president of ADASS, said: 'These are decisions that no-one wants to take, and many are unacceptable. They are drastic measures and must not become, the norm.
'The roots of this lie in the failure to fund adult social care sustainably over the past decade and to recognise and reward properly the committed, courageous and compassionate people who work in it.
'Opportunities were repeatedly missed to ensure that adult social care would be robust enough to withstand the challenges posed by Omicron. Any money that has been forthcoming, though welcome, has been too little, too late.'
ADASS is calling for social care to receive at least an extra £7bn funding a year, a social care minimum wage equal to what the NHS pays for similar work, and for social care to receive a larger share from the new Health and Social Care Levy.
Cllr David Fothergill, chairman of the Local Government Association's Community Wellbeing Board, said: 'No one receiving services should have to go without, but pre-existing workforce shortages have been compounded by staff absences caused by Omicron, leaving some councils with no choice but to prioritise people in their care.
'These sobering findings reinforce what we have long said, about the urgent need to address immediate pressures facing social care now, including on capacity, recruitment and retention, care worker pay and on unmet and under-met need.'
A Department of Health and Social Care spokesperson said: 'Care staff are working incredibly hard and we are doing everything we can to support them including with a £462.5m recruitment fund, expanding the Health and Care Visa scheme and our 'Made with Care' recruitment campaign.
'Over the course of the pandemic, we have made available more than £2.9bn in specific funding for adult social care.'