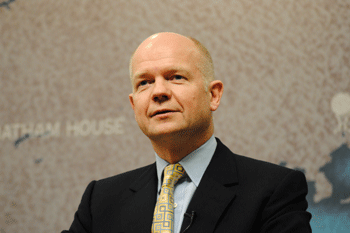 English MPs would be given a veto on legislation affecting only England under Conservative proposals for electoral reform.
Speaking to BBC Breakfast William Hague, chair of the Cabinet Committee on Devolution, said the reforms would deliver 'fairness to the people of England'.
It would mean MPs from the whole UK would continue to be able to debate and vote on English laws, but the committee stage - where line-by-line scrutiny takes place - would be restricted to MPs representing the parts of the UK where they apply.
Labour has called for a cross-party convention to consider the matter. The party has also suggested giving a greater role to English, or English and Welsh MPs, in scrutinising legislation that does not apply elsewhere in the UK.
Mr Hague is expected to say it is a 'fundamental matter of fairness' that English changes in these areas should have the agreement of English MPs.
The UK's Budget Bill would be considered in the same way, but 'where taxes have been devolved to Scotland, the equivalent taxes in England would require the consent of English MPs'.