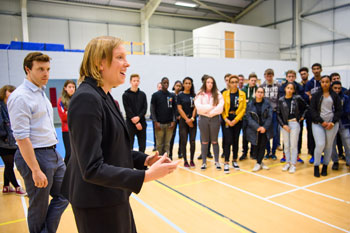 New guidance has been launched to help local authorities benefit from a Government-backed youth empowerment programme.
Minister for civil society Tracey Crouch today announced the publication of Government guidance to help councils across England and Northern Ireland further engage with the National Citizen Service (NCS).
The NCS is a two to four weeks full-time programme which helps 15-17 year olds build skills in preparation for work and life. It also includes 30 hours working on a community project.
The guidance provides practical instructions and recommendations to support local authorities in working with NCS.
Its recommendations include, assigning a main point of contact to liaise with NCS providers locally and connecting NCS providers with local stakeholders.
It also suggests councils get to know their local NCS provider and work with them to establish local priorities participants can contribute to.
'National Citizen Service is a valuable scheme that allows young people to develop key life skills, make new friends and build resilience and confidence,' said Ms Crouch.
'This guidance will help local authorities engage with NCS and promote the programme more effectively, so that even more young people get the chance to take part.'