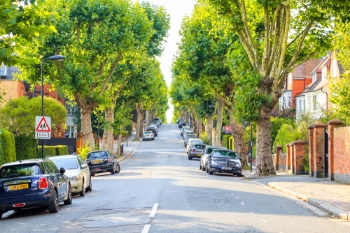 Nicholas Boys Smith, director of Create Streets, sets out how local councils can improve the level of urban greenery and why they should.
Nearly everyone agrees, in principle, that urban greenery is a good thing. However, the reality is sadly different.
Levels of urban greenery are declining. Between 2001 and 2018 English urban greenspace declined from 63 to 55% of the urban area. New places tend to be less green than old places. Recently created neighbourhoods have up to 40% less greenery than late nineteenth and early twentieth century neighbourhoods. Meanwhile, many councils cut down old trees and fail to plant new ones. The most notorious cases have been Sheffield and Plymouth but private conversations often reveal deep scepticism. As one senior highways official put it to Create Streets recently, 'If it was up to me, I would cut down every street tree. I am only joking.' But was he?
This is a problem because street trees really are a wonder drug, making for provably better places, cleaner air and happier and healthier citizens. They also mitigate the effects of climate change. What was once a ripple of conjecture is now a storm surge of evidence. But reality is not keeping up. Too often day to day decisions and policy are made by officials who see the risks, the liability and problems but who are not exposed to the provable advantages in terms of health, happiness, prosperity and sustainability.
It's time to change that and green up our streets and squares for people, place and planet. Create Streets' much-discussed new report, Greening Up, which has been welcomed internationally, sets out the hidden wiring of cost, liability and highways regulations which is de-greening our towns. Some fixes are national (and we set these out) but there are many actions which councils could and should take now. Here are the top six.
Firstly, get creative on funding. Hackney Council in London made use of the Road Traffic Regulations Act (1984) to hypothecate parking revenues to fund tree planting. Medway Council made use of road safety funding to plant street trees in build outs between parked cars. This is very sensible. People naturally drive more slowly in streets with trees and crash less frequently. Also consider allowing Section 106 and CIL monies to be used on green 'overspill' projects.
Secondly, piggyback programmes to green up streets off all your highways improvements right from the start so that every intervention in your streets and roads is greening up. Bristol City Council used relatively modest sums in the latter phases of its Bus Network work to do just that, saving money from subsequent retrofit.
Thirdly, value your trees and urban greenery. Use a clear and nationally recognised framework to understand their value as well as their costs so you can see them as an asset as well as a liability. For most councils, the best framework is probably the London Tree Officers Association's CAVAT (Capital Asset Value for Amenity Value) tool.
Fourth, use this to create a really clear strategy, pattern book and framework of greening up interventions that are 'standard practice' and the norm in your neighbourhoods. Good examples which already exist include Surrey's Healthy Streets Design Code or Lambeth's Kerbside Strategy. Strategic decisions need to be clear and made at a sufficiently senior level to embed into day-to-day decision-making.
Many highways and trees officers are great. But some tree officers are overly focused on planting trees in parks (which is easier but is less supportive of health and wellbeing improvements). Many highways officers have been educated to think of trees as liabilities not assets. Helping them see and learn from best practice will probably be helpful. We'll be running some courses soon if that is helpful. Greenery 'little and often' within the street network is normally the best way to improve the health and lives of your neighbourhoods. Planting street trees in build outs between parked cars (the Utrecht barcode vision is good on this) or at tight junctions is particularly effective for improving air, slowing cars and encouraging walking and more prosperous places.
Finally, most neighbourhoods have huge reserves of untapped resident energy to improve their streets and squares. Why not invite pioneers from marvellous groups such as Todmorden's Incredible Edible, Chatham's Arches Local, Grimsby's East Marsh United or Chiswick's Abundance London to talk to you and your residents about how to ignite a greening up revolution?
Greening-up your streets will improve your neighbourhoods' health, happiness and prosperity not just now but into the far future. You have everything to gain and nothing to lose but your tarmac.
If this article was of interest, then check out our feature, 'What planning authorities can learn from Garden Cities'.