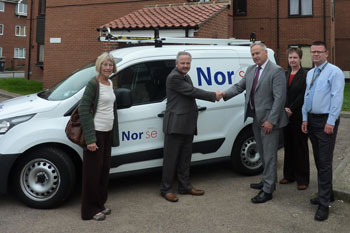 Great Yarmouth Borough Council has formed a new joint venture company to manage and maintain its housing stock.
The 10-year agreement with Norse Commercial Services is worth around £6m a year and will cover 6,000 homes across the borough.
Cllr Penny Linden, the council's cabinet member for communities, said: 'This new joint venture company aims to make sure all maintenance and improvement work is done to the highest standards, in the most effective, efficient and economic way.
'By operating more efficiently, the borough council will be able to make savings, which will benefit tenants as the savings will be re-invested in council homes.'
The agreement will see 18 staff transferred to the company, which plans significant investment in new vehicles and IT systems.
'We are really pleased to be building on our long-term relationship with Great Yarmouth Borough Council, which goes back to the formation of GYB Services in 2002,' added managing director of Norse, Peter Hawes.