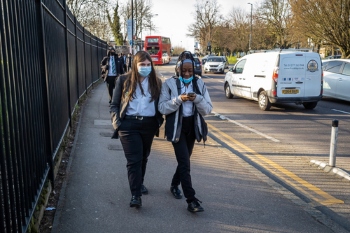 Twenty scientists and public health experts have joined with unions, and 400 parents and students to urge the Government to reconsider its plans to stop requiring children to wear face coverings at school.
A coalition of nearly 20 scientists, educational unions, including NEU, UNITE, UNISON, GMB, NASUWT, and 400 parents, and students have written to education secretary Gavin Williamson to express their concerns at reported Government plans to stop requiring children to wear face coverings in secondary school classrooms in England from 17th May.
The letter warns that 153,000 children and school staff in the UK could already be suffering with Long COVID. This includes 43,000 children and 114,000 teaching and education staff.
The letter states: 'To strip these necessary protections, when there are already too few mitigation measures in schools, and when rates of COVID-19 are still significant would have consequences for the health of our children and their parents as well as their communities.'
A Department for Education spokesperson said: 'It is expected that face coverings will no longer be required in classrooms at step three of the roadmap, which will be no earlier than 17th May.
'The lifting of further restrictions at step three will follow a review of the latest data on infection and vaccination rates, and all other school safety measures, including regular asymptomatic testing, will remain in place.'
However, the letter points to recent ONS data confirming a marked rise in infections over March among children after schools opened for just a few weeks before the Easter Break.
It points out that according to the latest data, between 10-13% of children who are infected with COVID-19 develop persistent symptoms after infection lasting 5 weeks or more, an indication of 'Long COVID'.
Catherine Wilson, head of support, Parents United UK commented: 'The removal of masks for secondary school pupils contradicts the available health and safety information we have regarding COVID-19 and threatens to increase the volume of COVID-19 infections in our un-vaccinated children and young people, in addition to school staff and families.'
Image: Yau Ming Low / Shutterstock.com.