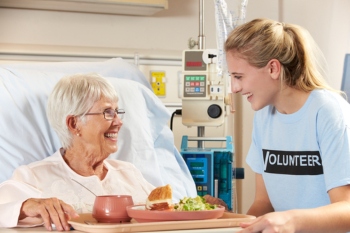 New measures to make it easier for volunteers to help support health and social care services during the coronavirus outbreak have been introduced by the Government.
In the event of a pandemic, volunteers will be able to increase the amount of time they can spend supporting a health, community health and social care setting without fear of losing their job for four weeks.
The Government also outlined further plans to prevent the spread of COVID-19, including the expansion of video hearings in courts and the emergency registration of health professionals who have since retired.
Health secretary Matt Hancock said: 'We will do all we can to contain coronavirus, but as we know, COVID-19 is spreading across the world, so I want to ensure government is doing everything in its power to be ready to delay and mitigate this threat.
'Public safety is my top priority. Responding to coronavirus is a massive national effort and I'm working with colleagues across government to ensure we have a proportionate emergency bill, with the right measures to deal with the impacts of a widespread COVID-19 outbreak.'
The Government has drawn up plans to provide nearly 200 buildings with a combined capacity for about 15,000 bodies as the spread of coronavirus intensifies. Visit The MJ (£) for more on this story.