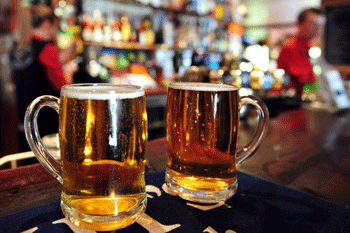 Council chiefs are 'disappointed' at the Government's refusal to include a public health objective in the Licensing Act as new figures reveal over 7,000 people died because of alcohol last year.
The latest Office for National Statistics (ONS) figures have revealed there were 7,327 alcohol-related deaths in the UK in 2016 — a figure that is unchanged since 2013 but which is still higher than 15 years ago.
The ONS also found that since 2001 rates of alcohol-specific deaths among males have been on average 55% higher than those observed among females.
However, for both sexes, rates of alcohol-specific deaths were highest among those aged 55 to 64 years in 2016.
'What is particularly concerning about these figures is that the rates of alcohol-related deaths were highest in middle aged and older age groups,' said the chairman of the Local Government Association's (LGA) Community Wellbeing Board, Cllr Izzi Seccombe.
'Despite drinking comparatively little, older people consume alcohol far more often. These statistics should serve as a warning around the dangers of regular drinking over a long period of time.'
Scotland remains the country with the highest rate of alcohol-specific deaths last year, according to the ONS figures, and in England, alcohol-related death rates were significantly higher in the most deprived local areas.
Despite the impact alcohol consumption can have on society, the Government has decided not to include a public health objective within the Licensing Act.
In their response to the report on the House of Lords Select Committee on the Licensing Act 2003, the Government said it was 'committed to working with public health organisations and professionals, in particular Public Health England, to support local areas to tackle the public health harms associated with excessive alcohol consumption.
'Public health teams have an important role to play in the licensing system, and that is why they have a statutory role as a responsible authority under the 2003 Act.'
'We believe there is much that can be done within the existing licensing framework,' it added.
'Alcohol-related deaths are preventable, and councils would be able to do more if Government reverses the cuts to the public health grant in the Autumn Budget,' said Cllr Seccombe.
'We have also urged the drinks industry to produce more low strength cider, wine, beer and spirits with fewer or zero units of alcohol, to tackle drink-related health problems.
'However, it is disappointing that Government has not acted on our call for a public health objective to be included within the Licensing Act.
'This would give councils the power to limit the opening of late-night premises in areas where there are particular concerns about the cumulative impact of alcohol on public health.'