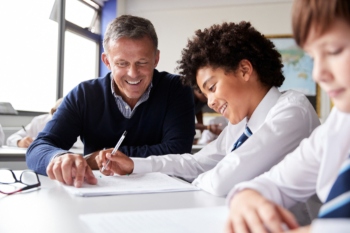 The Government has pledged to provide up to 100 million hours of free tuition for children and young people across England.
It has outlined plans to invest £1.4bn as part of plans to boost education recovery in the wake of the pandemic.
This includes £1bn to support up to six million, 15-hour tutoring courses for disadvantaged school children, and the expansion of the 16-19 tuition fund.
Early years practitioners and 500,000 school teachers will receive £400m worth of training and support.
Schools and colleges will also receive funding to offer students in year 13 the option to repeat the year if they have been particularly badly affected by the pandemic.
Education recovery commissioner Sir Kevan Collins said: 'Supporting every child to get back on track will require a sustained and comprehensive programme of support.
'The investments in teaching quality and tutoring announced today offer evidence-based support to a significant number of our children and teachers. But more will be needed to meet the scale of the challenge.
Cllr Anntoinette Bramble, chair of the Children and Young People Board at the Local Government Association, added: 'Recovery support should be made available to all children and young people but it is vital that vulnerable children, who have been disproportionately impacted by the pandemic, are the focus of this work.'