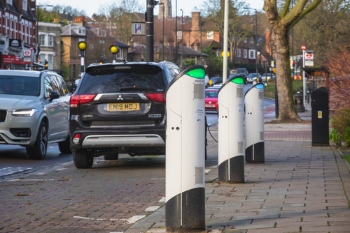 Only 14% of local authorities in the UK have a dedicated resource for implementing a new electric vehicle (EV) infrastructure, EV charging experts warn.
A new study from Liberty Charge shows local strategies are falling behind Government ambitions with only 10% (30,290) of the 300,000 charge points wanted by Government so far installed.
The report also found that 90% of households are still more than a five-minute walk from their nearest charge point.
Three-quarters of the 99 local authorities interviewed for the research quoted budgetary issues as a barrier to infrastructure adoption with a further 59% pointing to a lack of guidance from central Government as to where charge points should be located.
Almost three quarters (70%) of local authorities believe Government spending should be repositioned to improve accessibility in deprived or rural areas, rather than centrally located urban environments.
In addition, 77% agree that investment from central Government should be focused on ensuring every household, regardless of postcode, has access to a charge point.
Neil Isaacson, CEO Of Liberty Charge, commented: 'We work very closely with many local bodies and in truth, the roll-out of EV charge points is a brand new concept to many. We cannot just expect they all have the relevant experience and knowledge of how these networks work, nor can we just leave them to figure it out.
'There needs to be a cohesive strategy from the Government as to how we tackle the challenges of resourcing, and having just 15 hours a week to dedicate to the issue is not enough to create a sufficient network for all drivers begin making the switch.'
This article originally appeared on LAPV.