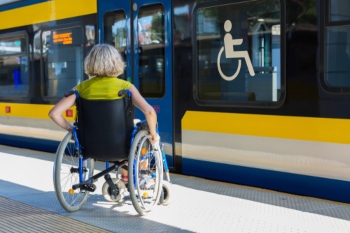 The Government has launched a new strategy aimed at delivering accessible housing, easier commuting and better job prospects for people living with disabilities.
The National Disability Strategy sets out a number of commitments supported by £1.6bn of funding.
These commitments include consulting on introducing workforce reporting for businesses with more than 250 staff on the number of disabled people, and a new online advice hub available to provide information discrimination in the workplace.
These initiatives, as well as piloting an Access to Work Adjustments Passport to help smooth the transition into employment and support people changing jobs, are designed to tackle the disability employment gap, which is currently at 28.6%.
The strategy will also see £300m invested in creating places, improving existing provision in schools and making accessibility adaptations for children and young people with Special Educational Needs and Disabilities.
'The result of an unprecedented endeavour across government, this national strategy will help level up opportunity and improve the everyday experience of disabled people, whether that is at home; travelling on public transport; using the local high street or going online; enjoying culture, the arts or the great outdoors; and exercising civic roles like jury service and voting,' said work and pensions secretary of state Thérèse Coffey.
'It sets out the practical actions we will take now, alongside clear accountability for delivering them, as well as renewing our ambition to do even more as we build back fairer.'
The National Disability Strategy includes a commitment to raise the accessibility requirements for new homes and adapt existing homes using the £573m Disabled Facilities Grant. It also mandates that 10% of homes built through the £11.5bn Affordable Homes Programme 2021-26 will be for supported housing.
The strategy outlines new technology making rail journeys easier and more accessible including enabling disabled passengers to contact staff from their seat on the train with the new support in place by end of March 2022.
The minister for disabled people Justin Tomlinson commented: 'We are absolutely committed to putting disabled people at the heart of government policy making and service delivery.
'Their voices, insights and experiences are central to this strategy and our future approach. By engaging disabled people, their families, carers and organisations, collectively we will deliver real and lasting change.
'That's empowered us to focus on the things disabled people tell us are most important to them, and crucially they'll be able to hold us to account as we deliver real and lasting change.'
Chief executive of Scope, Mark Hodgkinson, said: 'The Government promised a National Disability Strategy that will truly transform the lives of disabled people in this country. The reality is closer to a one year action plan.
'Many of the short term commitments made are to be welcomed, but the strategy as a whole falls short of the transformational plan that many disabled people expected and deserve. Unless we get clear detail beyond the next 12 months, it is difficult to see how life will be significantly different for the next generation of disabled people.'