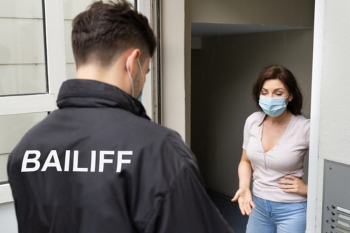 The extension on the current ban on evictions by bailiffs has been welcomed by a homelessness charity.
The Government has announced the ban on bailiff-enforced evictions and six-month notice periods have been extended to 31 May.
Housing secretary, Robert Jenrick, said: 'It is right that as we move through the roadmap, we ensure that businesses and renters continue to be supported.'
Shelter welcomed the extension but called on the Government to reform the rental system.
Polly Neate, chief executive of Shelter, said: 'The pandemic has repeatedly exposed just how broken private renting is, leaving many people hanging onto their homes by a thread. And, although the ban and longer notice periods are keeping renters safe for now, they won't last forever.
'Millions are living at the mercy of a rental system that is notoriously unstable, expensive and where complaining can cost you your home. The government should use this pause to bring forward the Renters' Reform Bill. Now is their shot at making renting fit for purpose, so we are never again in a position where so many are left so vulnerable.'
The ban on commercial evictions has also been extended for a further 3 months to 30 June.