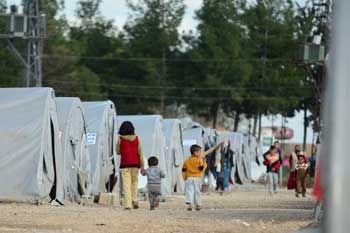 The Government will be forced to allow 3,000 unaccompanied child refugees to come into the country from Europe, after the House of Lords voted in favour of amending the immigration bill.
The majority of peers - 306 to 204 votes – said the Government should act immediately to take in the refugee children, many of whom are being held in Calais.
Save the Children had put forward the proposal to accept an additional 3,000 Syrian refugee children from within Europe, a move that was backed up by the International Development Committee.
Stephen Twigg MP, chair of the committee, previously warned: 'Having survived the treacherous journey, there is a grave possibility that unaccompanied children become the victims of people traffickers who force them into prostitution, child labour and the drugs trade. This is an issue of utmost urgency.'
The Government, who may look to overturn the defeat when the bill returns to the Commons, said the amendment might not help those children most in need.