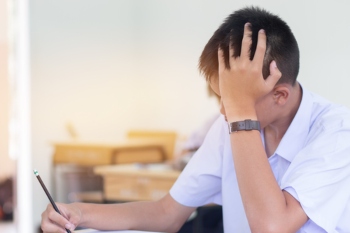 Thousands of schools in England are set to benefit from further support and training to help pupils combat bullying, the Government today announced.
The Department for Education has confirmed funding for five leading organisations, worth over £1m in total, to support schools and colleges in championing tolerance and respect.
The announcement, made as Anti-Bullying Week gets underway, aims to help educational facilities 'create safe and inclusive places for young people', children and families minister Will Quince said.
'Bullying in any form is unacceptable and can have a devastating effect on children, young people and their families,' said Mr Quince.
'It is so important that we all take a stand against bullying so we can help create safe and inclusive places for young people both in schools and online.
'It's crucial that our children and young people know how to treat one another with respect and celebrate one another's differences. That's why we are supporting organisations leading the way with providing schools with specialist support and training for thousands of teachers to help respond to any concerns and to make sure bullying never prevents any young person from fulfilling their potential.'
A new support scheme for school leaders is also being launched today, backed by £760,000 to promote good wellbeing across pupils, teachers and school and college staff.
The scheme will provide one-to-one counselling and peer support to around 2,000 school leaders, helping those at deputy head level and above with their mental wellbeing.
An updated Education Staff Wellbeing Charter will also be published this week, which sets out commitments from the Government, Ofsted, education unions and charities, to promote and protect the mental health of the education workforce.
Over £3.5m has already been provided to charities and organisations to prevent bullying, with the latest funding boost going towards projects and programmes that tackle bullying including LGBT, special educational needs and disabilities (SEND), and victims of hate-related bullying.
Minister for equalities Mike Freer commented: 'Bullying, especially when it targets an innate characteristic like being LGBT, is particularly damaging and distressing to children. It is vital we stamp it out and equip our brilliant teachers to do so effectively.
'Every child has the right to be themselves and thrive at school. I look forward to meeting some of these organisations to hear more about their work.'