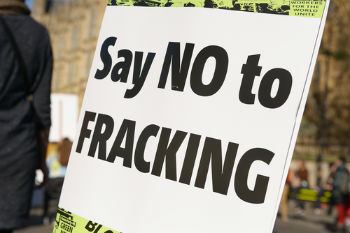 The Government has called a halt to fracking in England over fears it may cause earthquakes.
The Government said it was withdrawing its support for fracking following the publication of new scientific analysis showing it is impossible to predict the likelihood of earthquakes linked to fracking operations.
Business and energy secretary Andrea Leadsom said: 'After reviewing the OGA's report into recent seismic activity at Preston New Road, it is clear that we cannot rule out future unacceptable impacts on the local community.
'For this reason, I have concluded that we should put a moratorium on fracking in England with immediate effect.'
However, the move has been blasted by Labour as an election stunt
Rebecca Long-Bailey, shadow secretary for business, energy and industrial strategy, said: 'The Conservatives usually wait until after elections before breaking their promises but this time they've u-turned on their fracking policy within hours of announcing it. Their own energy secretary has described pausing fracking as a "disappointment", says fracking is a "huge opportunity" and that the UK will rely on fracked shale gas for decades to come.
'This confirms that the Tories are only temporarily pausing fracking to try to win a few votes.'