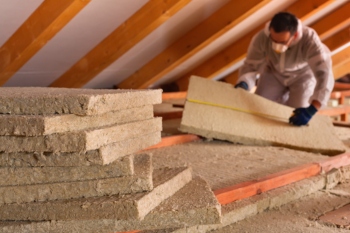 Over 50,000 social housing properties and low-income households will be upgraded with green improvements with the launch of a £562m Government fund.
The funding will enable over 200 local authorities across England and Scotland to upgrade the UK's least energy efficient and fuel-poor homes.
This includes measures such as cavity wall, underfloor and loft insulation, and replacing gas boilers with low carbon alternatives.
Housing minister Christopher Pincher said: 'The challenges involved in improving the energy efficiency of our homes and reducing carbon emissions are substantial. However, the investment being announced today along with our Future Homes Standard will help ensure that existing and newly built homes will be fit for the future, better for the environment and affordable for households to heat using low carbon energy.'
However, the Local Government Association (LGA) has warned councils don't always have the capacity and staffing to apply for grant funding so called for more long-term funding to be given.
Cllr David Renard, LGA housing spokesperson, said: 'Councils are leading the way tackling climate change and are committed to delivering green improvements, but have faced challenges with the competitive, short-term nature of grant funding, which requires councils to have sufficient staffing and capacity to apply.
'Providing long-term funding would better enable councils to help achieve our national net zero ambitions, supported by giving councils the flexibility to set energy efficiency standards above the current Building Regulation Standards.'