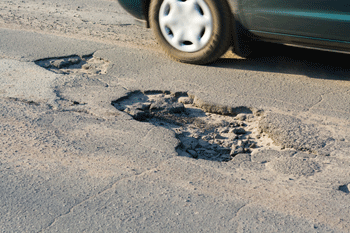 Google has been granted a patent to develop new technology that enables cars to detect potholes in the road.
The system would use a vertical movement sensor to detect potholes and uneven road surfaces. The vehicle's GPS would then submit this information back to Google, who would produce a road quality database.
The database could be used by local authorities to identify which roads need repairing, while motorists could plan their routes to avoid potholes.
The patent said: 'The signals from the sensors are monitored by the amount of vertical vibration that is encountered. This data, together with the vehicle's location, may be transmitted through a mobile network to a central server for distribution in road quality reports and to improve driving directions in mapping software.'