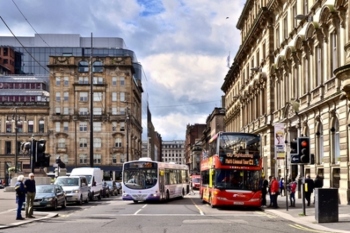 Glasgow city centre is set to suspend around a third of its on-street parking spaces to increase space for social distancing.
Supported by £3.5m funding from Scottish Government and administered by Sustrans Scotland, the council's Spaces for People programme will create about 25km (15 miles) of extra space for physical distancing.
The council has argued there will still be enough parking provision. The city has 12,000 spaces in car parks and the council said these were rarely more than half full, the BBC reports.
City centre footways will be widened to ease movement while the COVID-19 restrictions remain in place.
These temporary measures are intended to support economic recovery by creating safe space but also to promote active travel in the longer term. It will however cost the council in parking income when enforcement is reintroduced after lockdown.
The measures will require the use of temporary traffic regulation notices (Safety Notices) and orders (TTROs) under Sections 14(1) and (2) of the Road Traffic Regulation Act 1984 (RTRA). The reason for making a Safety Notice or a TTRO under these powers 'is because of the likelihood of danger to the public as a result of the COVID-19 situation'.
'The use of these powers is in line with recent guidance issued by Scottish Ministers,' the council said.
A report on the plan was approved by the council on 4 June.
Streets affected include St Vincent Street, Argyle Street and Queen Street. The proposed pedestrianisation of George Square is also being brought forward.
City council leader Susan Aitken said: 'The easing of the pandemic lockdown means that repurposing our streets is not just an ambition but a matter of urgency. People need the safe space and confidence to observe physical distancing, get on with their lives and accelerate our recovery.
'From reconfiguring our roads and footways to provide extra space for pedestrians, mobility and wheelchair users, to the creation of temporary cycle lanes; different combinations will be considered to fit the needs and characters of different neighbourhoods, as well as our city centre.
'The need for space is widespread and immediate. Safer streets are about restoring confidence, vibrancy, prosperity. They're also about saving lives.'