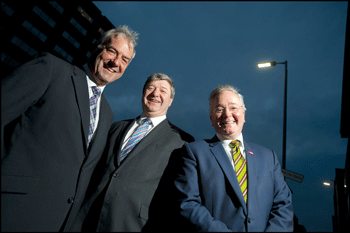 Glasgow City Council has become the first local authority to take a loan from the UK Green Investment Bank (GIB) to finance its switch to low energy street lighting.
The council will use the Green Loan to help convert 70,000 streetlights to low energy. It expects to see a reduction in its electricity bill of up to 80%, following a payback period of around five years.
The Green Loan enables local authorities to borrow a low, fixed rate loan to finance energy efficiency projects. Repayments are made from savings achieved by the project, over a period of up to 20 years.
GIB chief executive, Shaun Kingsbury, said: 'The GIB Green Loan is essentially a corporate loan facility that covers the set-up, capital investment and installation costs of lighting upgrades to LED, with repayments being made from within forecast savings.
'Put more simply, local authorities borrow money from the Green Investment Bank, but repay the loan entirely through the money they save by changing their lighting.'
Business secretary, Vince Cable, welcomed the announcement and called on other councils to follow Glasgow's lead. 'This investment by GIB into new LED technology could make big strides in saving money for local councils and reducing our carbon footprint', he said. 'I urge councils across the country to follow Glasgow City Council's lead and GIB's new Green Loan can help speed up the take up of this streetlighting.'
The electricity bill for streetlights across the UK is more than £300m a year. Streetlights also produce 1.3m tonnes of CO2 emissions every year.