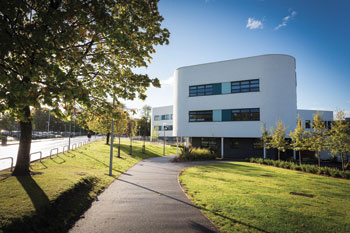 The UK has experienced a year of seasonal changes, facing both very cold and hot weather patterns within the last twelve months. Last March, the 'Beast from the East' swept the country with blizzards and freezing temperatures. In comparison, last summer saw us basking in a heatwave, bringing with it sweltering work and learning environments.
Such fluctuations in weather can have cumulative effects on energy management for local authorities, placing greater demand on the capacity of building technologies such as heating, cooling and ventilation.
During very cold periods, buildings take longer to heat up efficiently and users typically raise heating temperatures, placing added pressure on boiler components, particularly after a summer season when they are not needed as much. Similarly, as condensing boilers operate best at part load, their performance may not always be optimal when operating at maximum capacity. By contrast, spells of very hot weather can overwhelm cooling systems.
This can result in uncomfortable working environments, particularly for pupils and staff, with less efficient cooling capability. Amplified use of technologies also has financial implications for councils, increasing energy bills, particularly if older, less efficient technologies are concerned, as these require longer operating hours to achieve desired temperatures.
Councils have many opportunities to ensure their energy systems are prepared to cope with seasonal changes and avoid high energy bills.
One way is to look at upgrading old systems such as outdated boilers, to more modern efficient technologies. With newer, less vulnerable components, upgrades effectively reduce energy consumption and associated bills, while reducing maintenance requirements.
During colder spells, the upgrades allow public buildings like schools to be heated to a desired temperature more efficiently whilst using less fuel. Building insulation, draught proofing and glazing can also reduce reliance on heating and cooling systems, retaining heat during severe cold weather, while simultaneously reducing cooling demand in poorly insulated, air-conditioned buildings. Thermal storage systems are a further example of how the demand can be reduced on heating and cooling systems during times of high usage.
Installing Building Energy Management Systems (BEMS) with intelligent controls, like weather compensation and minimum temperature settings, enable heating systems to react ahead of temperature changes, automatically increasing heating when cold spells are expected.
BEMS are particularly useful for local authorities, as they enable a range of technologies - including lighting, cooling and heating - to be controlled for multiple buildings from one single location. This streamlines resources and ensures systems are only used when required, reducing costs and preventing some areas from being warmer or colder than others. By closely monitoring systems, BEMS provide councils with useful statistics to see where they can reduce energy consumption. During warmer periods, upgrading cooling plants to more efficient models, or replacing air conditioning with evaporative cooling, can effectively reduce energy consumption. Free cooling systems, which take advantage of favourable weather conditions to enable refrigeration plants to be shut down for long periods, save significant amounts of energy and decrease carbon emissions.
The use of heat recovery in ventilation systems, which sees ventilation air pre-heated or pre-cooled by room air, is another option for councils looking to increase system efficiency at minimal cost. These systems reduce the effort needed by boilers or cooling plants to maintain correct internal temperatures.
While the replacement of technologies may require an upfront investment, newer models are able to run more effectively at a lower cost and are more resilient, leading to fewer maintenance costs. These benefits are key during periods of cold weather, where there is a greater need for heated spaces over extended periods. In addition, new, more efficient technologies are developed with weather fluctuations in mind.
The benefits of upgrades are clear; however, financial barriers can often prevent energy upgrades from being implemented.
Fortunately, funding is available from not-for-profit, government funded organisation Salix Finance, which provides 100% interest-free loans to public sector energy efficiency projects, to help with these obstacles. Visit www.salixfinance.co.uk for further details.