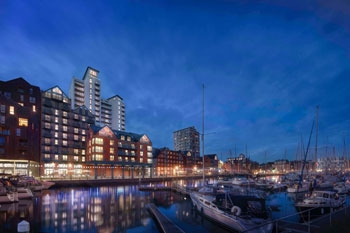 The redevelopment of the 'Winerack' building on Ipswich waterfront has been given a £20m boost, eight years after work stalled following the recession.
The investment - £15m from the Homes and Communities Agency and £5m from New Anglia Local Enterprise Partnership – will see work on the long-delayed town centre project begin again later this year.
Regatta Quay – known locally as the Winerack – has been in a semi-constructed condition since the financial crash of 2008.
The completed project will create 149 residential units and 5,000 square feet of commercial space.
'The unfinished Winerack has been an all too visible blot on the Ipswich landscape for too long,' Said the leader of Ipswich Borough Council, David Ellesmere. 'As long as it exists it will put off developers who might invest in our town.
'This is a very significant investment by New Anglia LEP and the Homes and Communities Agency and one we should all welcome. It is yet another example of the huge improvements we are now seeing in Ipswich as a result of all the partners in Ipswich Vision working together.'
Nick Walkley, chief executive of the HCA, added: "This is a great example of how government-backed investment can get cranes and diggers back on stalled building projects and start creating new homes and jobs.'
Ipswich Wharf Developments (IWDL) is led by local developers John Howard and Jeremy Scowsill.
Photo: Daniel Fisher