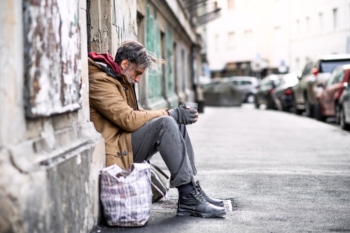 Over half of frontline services have seen a rise in homelessness due to the coronavirus pandemic, research has revealed today.
Homelessness charity Crisis also found nearly three quarters of those surveyed have seen a rise in demand for services since the start of the outbreak.
Of those surveyed, 60% have seen a rise in people sofa surfing that need help, while 86% have seen a rise in people seeking help for basic needs such as food.
It warns extraordinary progress made in tackling homelessness is at risk if further action isn't taken to provide everyone with permanent housing.
Jon Sparkes, chief executive of Crisis, said: 'At this very minute tens of thousands of people across Great Britain are struggling against a rising tide of job insecurity and high rents, all of which threaten to push them into homelessness.
'We're also seeing people who are still trapped on our streets because they aren't eligible for help. This isn't right especially when, given the progress we've made so far, we know that ending homelessness is within our grasp.
In response, Cllr David Renard, the Local Government Association's housing spokesman said: 'Following the initial surge in demand for accommodation, councils are also now experiencing an urgent need for more accommodation as people, including young people, continue to face homelessness and rough sleeping.
'While the recently announced funding for councils to support rough sleepers is positive, we still need clarity from government on what additional practical support will be available to councils to help them move people out of hotels and temporary accommodation and into housing.'