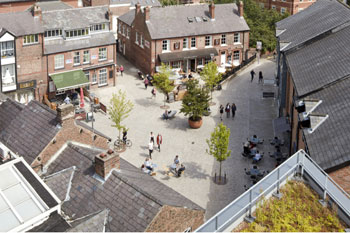 Eight years ago, Altrincham was labelled Britain's biggest ghost-town after it was revealed that it had the worst shop vacancy rate in the UK with more than 30% of stores lying empty.
Altrincham was featured on BBC's The One Show as a blue-print for town centre regeneration after investment in the town resulted in shop vacancies falling by almost three-quarters to just 7.9%.
What has Trafford Council and it's public and private sector partners done to Altrincham that other local authorities can learn from?
Before we can create a solution, we need to diagnose and accept the problem: Britain's town centres are dying.
For decades our urban centres had been the economic engines, commercial heartbeat and cultural soul of Great Britain. However, for most of the past ten years our country's town centres have been in decline.
Out-of-town retail parks have led to significant reductions in both footfall and spending on British high streets. Being located just seven miles away from Britain's second largest shopping centre, The Trafford Centre, meant that Altrincham suffered from this more than most.
The subsequent paradigm shift in buying behaviour from the high-street to the world wide web has exacerbated these woes with Brits spending more online per household than any other country.
As a result, Ipsos' Retail Performance Index shows UK footfall has dipped 5.5% on average since 2016 and 14 shops shut for good in Britain every single day. So, what now for our town centres? Now sightings of 'closing down' sales are on the increase have the windows of opportunity been white-washed? Well, maybe not.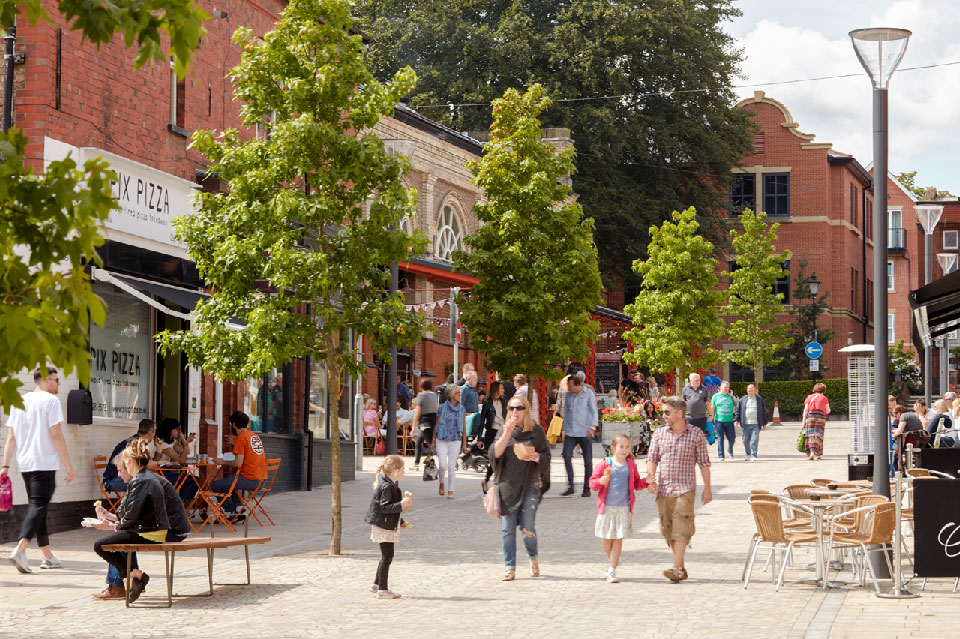 Team Altrincham
Trafford Council decided change was needed. In 2011 it created Altrincham Forward, to bring together public, private and community stakeholders, with the aim of revitalising the town.
Led directly by chief executive, Theresa Grant, and a council funded Town Centre Team, Altrincham Forward's aim was to drive change across the urban centre.
The team helped get Altrincham businesses and landlords on side by providing a direct face-to-face point of contact and a rapid response to issues. From building these relationships the council managed to persuade landlords and shop owners to make improvements to their shop frontages and address 'grot spots' to improve the look and feel of the town.
A key aim was that any shops not currently let should not be allowed to fall into disrepair. And, where landlords did not make improvements voluntarily, Trafford Council issued legal letters threatening action. However, no further action was ever required as landlords always co-operated and as they saw improvements they understood the value of their investments would rise.
Time for action
An action plan was developed in 2012, which set out key priorities and a vision for the town centre to re-establish itself as a 21st Century market town. The objectives were to increase footfall, dwell time, and spend and a number of targeted public-sector investment decisions were made to act as a catalyst for greater private sector involvement and finance.
Among the key decisions taken were:
• Altrincham market hall: Bringing market halls back into use as the heartbeat of market towns does not sound visionary but the decline of local market halls has been a symptom of the erosion of local produce, local pride and local identity in our town centres. Trafford Council invested £1m in the refurbishment of Altrincham's Grade 2-listed Market House and covered market and sought a private sector operator to transform the Market House into a gastronomic food hub. The market is popular with both residents and visitors, drawing in over 7,000 people a week and in 2015 won Observer Food Monthly's award for Best Market.
• Altrincham Hospital: Instead of refurbishing an old hospital Trafford Council supported the development of a new hospital on a prominent town centre site to help showcase new investment in Altrincham. Demolishing the existing hospital freed up a site to allow further transformation and led to the creation of a new Health and Wellbeing Hub and co-location of a library to improve services for local residents. Bringing community facilities back into the heart of the tow centre has also improved visitor numbers giving people an opportunity to spend time shopping or enjoying the town as part of their visit.
• Altrincham Interchange: A £19m redevelopment completed in 2014 to create a landmark gateway to Altrincham by bus, tram, train and taxi.
• Town centre loans: Trafford Council has also pioneered a new form of loans allowing businesses to borrow up to £20,000 to set up in Altrincham, and other town centres, or access extra money for training or marketing. The loan can be applied for by anyone who will bring vacant ground floor premises back into use. Since 2013, 20 town centre loans have been awarded in Altrincham to the value of almost £200,000 which has helped to leverage £587,427 of investment into the town and created 77 additional jobs.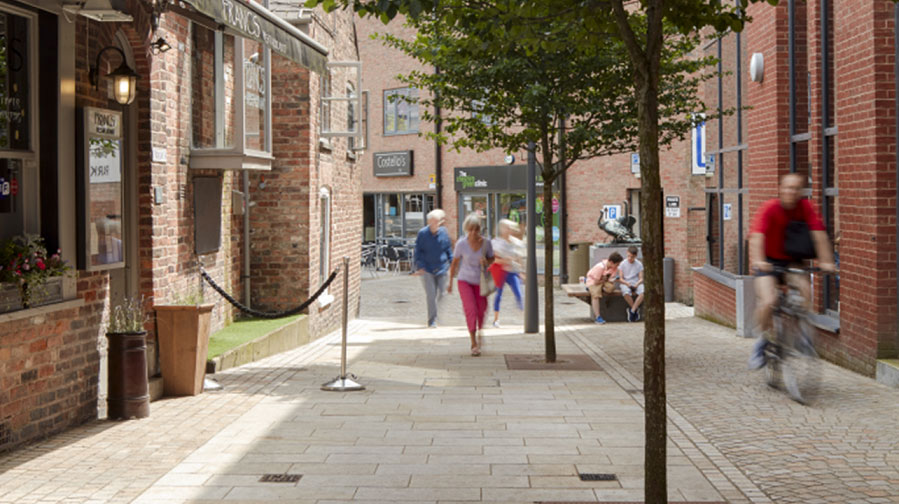 Public realm improvements
However, by far the most wide-ranging set of improvement to have taken place are the first of two phases of public realm improvements delivered at a cost of £3m.
The works project managed by The LK Group over the past five years have focussed on making the town centre more people friendly.
For decades Britain's town centres have been designed for cars. However, cars do not buy shopping, food or drinks – people do. As such The LK Group is passionate about creating town centres with more points of interest and friendly and safe areas to enjoy leisure time.
Among the public realm works delivered so far have been:
• The creation of new flexible public spaces such as Goose Green which has been transformed into a more adaptable space with powerpoints for music and AV equipment allowing it to hold the Goose Green Summer Festival and other outdoor events
• The creation of new high-quality pedestrian areas, new street furniture and additional street trees at Shaws Road, Cross Street and Goose Green.
• The introduction of narrower carriageways and more street crossings to slow traffic through the town centre alongside additional trees, parking and loading bays, high-quality footpaths, and contemporary street furniture.
• Connecting the town in a more logical way – Altrincham is now about more than just shopping but also about the night-time economy with popular bars and restaurants. As such the work has created more pedestrian space and better-connected pedestrian thoroughfares for visitors to move around.
When local authorities cannot afford this level of public realm improvements they need to concentrate on what they can achieve to make the town centre a more pleasant and welcoming place to visit with better signage to help visitors and shoppers to find their way.
Results
The results have been staggering. In the past year alone footfall in Altrincham town centre has risen to 1.74m – a year-on-year increase of more than 5% since 2016 in contrast to a 5% year-on-year decline across the rest of the UK.
In 2017 Altrincham was named in the top 10 centres for premium brands to invest in by CACI and declared Britain's second most sought after suburb, after Cambourne and Hardwick in Cambridge, according to analysts from Hamptons Since 2010 more than 25 restaurants and bars have opened and national chains such as JD Sports, Paperchase and Bistrot Pierre opening outlets next to a new wave of independents.
In 2017 shop vacancies were a third less than the national average of 12.2%.
It's estimated since the transformation Altrincham now has 140 shops - of which 56 are independent - 33 beauty salons and hairdressers - of which 29 are independent - and 93 restaurants/ bars/ cafes, of which 74 are independent.
The council-funded Altrincham Forward has now been disbanded and replaced by Altrincham Unlimited, a public-private partnership not reliant on public funds. Having spectacularly risen from the ashes Altrincham is being hailed as a potential blueprint to help reinvigorate failing town centres everywhere.
Greater Manchester is now at the forefront of town centre regeneration. Six months ago new Metro Mayor Andy Burnham announced a new Town Centre Challenge initiative calling on all of Greater Manchester 10 borough councils to nominate a town centre for regeneration.
So far Farnworth, Leigh, Prestwich, Stalybridge, Stretford, Swinton and Stockport have been announced as town centres set to take part. Councils are expected to put forward innovative solutions to create new business, retail and cultural offers, more town centre housing, and public-sector hubs which could see more co-located services such as medical, social care, hospital, police, fire and council services.
Greater Manchester's town centres don't have to look far to find an example of effective and successful town centre regeneration.
In Altrincham, Trafford Council has created a blueprint which local authorities the length and breadth of Britain can replicate.
By working together, the public sector and private sector can breathe new life into our town centres once more.
Conor Leyden is managing director of The LK Group.