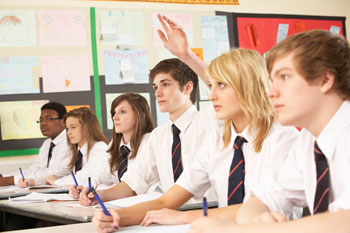 Free schools are failing to fulfil their original objectives of offering innovative approaches to education and are not educating enough disadvantaged children, according to researchers.
The National Foundation for Educational Research and the Sutton Trust say the Government should review the free schools programme, launched in 2010, and clarify their mission.
They say instead of being parent-led, an increasing number are being set up by multi-academy chains.
Only a third of the 135 free primary schools and 29% of secondaries in England have adopted a novel approach to teaching and learning.
The research shows that only 13% of children at free primary schools are eligible for free school meals compared to 16% in their catchment areas.
Peter Lampl, founder of the Sutton Trust, said: 'Free schools were supposed to bring new and innovative providers into the education sector, to drive up standards and improve school choice.
'But as our research shows, very few are fulfilling that original purpose.
'Our research finds that while free schools are often located in disadvantaged areas both primary and secondary free schools have lower proportions of disadvantaged pupils than their catchment areas.
'This is unacceptable. Free schools need to make serious efforts to recruit more students from disadvantaged backgrounds.'