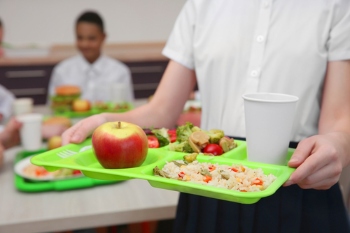 One million more school children could be fed if the sign-up process to the free school meals was simplified, local authority leaders have said.
The Local Government Association (LGA) has said that automatic enrolment for free school meals should be introduced and eligibility expanded to include all children who meet the income criteria, regardless of their parents' circumstances.
The call comes as the Government is expected to publish its food strategy white paper imminently, which will contain a range of new proposals on tackling inequalities in access to healthy food and improving the environmental and public health impact of our national food supply.
'Rising food, fuel and other costs affect everybody, but particularly low-income households with children who rely on extra support to make ends meet,' said Cllr Shaun Davies, chair of the LGA's Resources Board.
'Given these pressures, it is absolutely essential that all those who are eligible can get the help they need, including access to free school meals, at a time when we know the price of food and the general cost of living are spiralling.
'Streamlining and removing the red tape in the applications process, so that councils get given the information they need, is vital if we are to ensure no child misses out on a healthy meal.
'The Government should also urgently look to raise the earnings threshold and permanently extend the criteria to those who are currently not eligible due to immigration status, including undocumented parents and those who are not able to access public funds, so that no child goes hungry.'