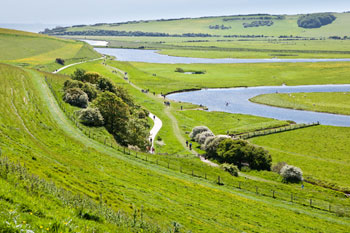 A Government U-turn on pledges to protect Britain's important wildlife locations from fracking could 'ruin' hundreds of conservation sites, campaigners have warned.
Ministers have now gone back on commitments to ban exploration for shale gas in Sites of Special Scientific Interest (SSSI), claiming such a law could hold back the industry.
Energy secretary Amber Rudd told MPs in January that 'we have agreed an outright ban on fracking in national parks [and] sites of special scientific interest'.
However draft regulations laid in Parliament on Thursday by the Department for Energy and Climate Change (DECC) covering where fracking would be excluded has outlined shale gas exploration will no longer be blocked in SSSIs.
Surface level protection would still be extended 1,200 metres beneath a National Park, an area of outstanding natural beauty, a World Heritage site and the Broads.
A DECC spokesman said: 'SSSI already have strong protection under the existing planning and regulatory regime. As they are numerous and extremely widespread it would be impractical to completely rule out drilling in SSSI.
'However, the National Planning Policy Framework already makes clear that development should not normally be permitted if it is likely to have an adverse effect on a Site of Special Scientific Interest.'
Daisy Sands, Greenpeace UK head of energy said: 'The Government seems intent on watering down their pledge that national parks, the most beautiful and beloved areas of the English countryside, and ground water would be protected from fracking firms, their drilling rigs and pollution.
'With a few days before recess, this looks like nothing but a blatant attempt to bypass democracy to sneak this deeply unpopular policy in through the back door while noone is looking. Ministers have given concerned citizens up and down the country no opportunity to voice their opposition to the plans that could ruin the countryside, contaminate the water supply and have a devastating impact on the climate.'
The Government's vow to go 'all out for shale' was dealt a blow last month when Lancashire CC rejected two fracking applications from firm Cuadrilla. However it is anticipated that the firm will attempt to overturn the decision.