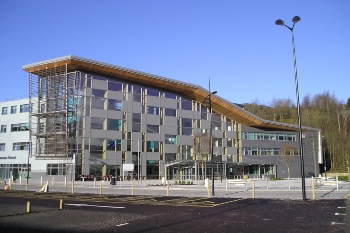 Four councils in Wales will allow people to vote before polling day in next May's local government elections as part of a pilot scheme.
Blaenau Gwent, Bridgend, Caerphilly and Torfaen council areas will trial flexible voting pilot schemes including allowing students to vote at their college and early polling centres offering flexibility over location as well as timing.
Blaenau Gwent Learning Zone (pictured) will be used as an early polling station in the week leading to election day for all eligible students and other residents of the county. A school will be used as an early polling station in Bridgend, with extra early voting being made available in wards which have had lower turnout in the past.
Council offices will be used as early voting centres in Caerphilly and Torfaen, open to all residents of the county.
Mick Antoniw, counsel general and minister for the constitution, said: 'At a time when UK government plans for voter ID risk making voting harder, our message is loud and clear that voting should be easier.
'Lowering the voting age to 16 was a progressive step that recognises the valuable contributions young people can make. We're giving young people the chance to shape our democracy so I'm pleased pilot schemes will take place in a school and in a college.
'The outcomes of the pilots will be carefully considered and could eventually reshape how people cast their votes across all of Wales.'
Michelle Morris, managing director at Blaenau Gwent Council, commented: 'We are delighted that our proposal for Ebbw Vale to be one of the flexible voting pilot areas has been successful. It is important that people use their vote and take part in elections and this initiative certainly helps this. It makes it easier for people to cast their vote and will encourage more people to take part in the upcoming local elections.'
Photo: © Chris Andrews / Geograph