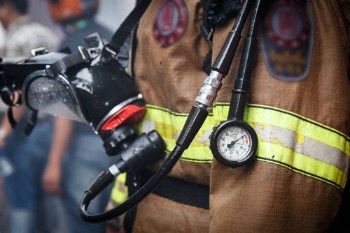 An investigation is underway to establish the cause of last Friday's student accommodation fire in Bolton and to find out whether the building's cladding contributed to its rapid spread.
The fire, which enveloped The Cube on Friday night affecting over 200 university students, left the top floor gutted and damaged two other floors. Two people were reportedly injured in the blaze.
Greater Manchester fire and rescue service (GMFRS) has announced that it will undertake an investigation to determine the cause of the blaze.
An inspection of the two buildings which make up The Cube following the 2017 Grenfell tower fire found that they did not have ACM cladding – the type of cladding which contributed to the rapid spread of the North London fire which killed 72 people.
However, a fire risk assessment was undertaken in 2018 which led to work being carried out by the building owners, Urban Student Life.
An investigation by GMFRS will now consider the materials used within the external wall construction and what if any role these played in the development and spread of the fire.
Bolton Council leader Cllr David Greenhalgh paid tribute to the fire services and others who helped respond to what he described as a 'terrible incident'.
'Everyone has rallied together. Council staff were on site immediately and throughout the night supporting the emergency services, the university and housing associations, and we will continue to help,' he said.
'I was here last night with cabinet colleagues and we saw first-hand the fantastic work of the emergency services. I can't compliment them enough.
'I'd like to pay special tribute to the university and to the neighbouring housing associations who worked together to rehouse people from the building and those nearby which were evacuated.
'I'd also like to pay tribute to the student ambassadors, who I met last night, and who went banging on doors to get everybody out.
'Once again a huge thank you to everybody who has made this operation move swiftly.'
Eva Crossan Jory, NUS vice president, said that it was 'devastating' that students had experienced this 'shocking situation'.
'We commend the fire brigade on bringing the fire under control so swiftly and other emergency services treating those injured,' she said.
'NUS has been calling for a number of improvements in fire-safety measures in student accommodation, and while this building doesn't appear to have used the same cladding as Grenfell, we also don't know what role it might have played in this fire.
'It shouldn't take another fire to put the issue of building safety back on the agenda. Student safety must always be the first priority for accommodation providers and the Government.'