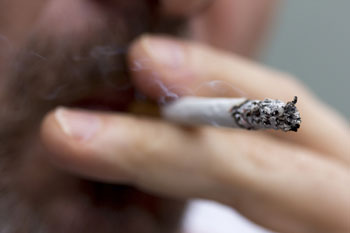 Blackpool had the highest estimated hospital admission rate for smoking-related conditions in England in 2014-15, according to the latest figures.
The Health and Social Care Information Centre said 2,830 per 100,000 of the city's population went to hospital with illnesses thought to be caused by smoking, while City of London had the lowest rate with 880.
Manchester had the highest estimated rate of people dying from smoking-related conditions with 458 per 100,000 of population, while Harrow had the lowest rate with 185.
The HSCIC said hospital admissions thought to be caused by smoking in the UK went up by 5% in ten years standing at 475,0004 in 2014-15.
However, the number of deaths among adults aged 35 and over estimated to be attributable to smoking had fallen.
Conditions where smoking was thought to be only one of the possible causes resulted in 1.7 million admissions to hospital for adults aged 35 and over in 2014-15, an average of 4,700 a day.
The report says 19% of adults in Great Britain described themselves as smokers, down from a peak of 46% in 1974, and their average consumption was 11 cigarettes a day, also less than previously.
It found that there were an estimated 2.2 million current e-cigarette users, 4% of adults aged 16 and over.