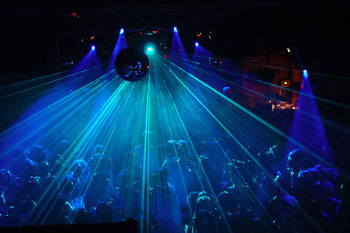 Fabric nightclub will be allowed to reopen after it reached an agreement with Islington Council, setting out tough new licensing measures.
The council had suspended the club's licence back in August following the two deaths of two young men who had been able to take and purchase drugs within the nightclub.
Although Fabric was due to appeal this decision in magistrates' court next week, the new agreement will mean the club will take a zero tolerance approach on drugs.
This includes the use convert surveillance within the club, life-time bans for anyone found in possession of drugs or trying to buy drugs within the club, and a new ID scanning system on entry.
The management of Fabric also pledged to ban anyone who had been involved in the online abuse aimed at council staff and committee members.
A joint statement from the council and club stated: 'In the light of Fabric's acceptance that there have been failings, and given the commitment that its directors and management have shown by their development of the operations manual and acceptance of these new conditions, the authority is now satisfied that the statutory licensing objectives may be met short of revocation of the Premises Licence.
'It is for these reasons that it has decided not to oppose Fabric's appeal. Fabric Life will pay Islington's costs in these proceedings directly and not from the monies pledged by supporters.'