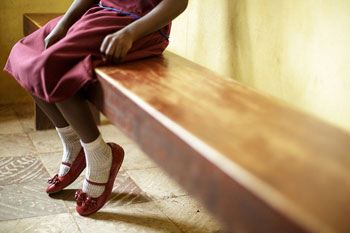 New data on Female Genital Mutilation has revealed that the number of children flagged by social workers as being at risk from the abusive practice has doubled in the last year.
The Government figures show that FGM was a feature in 1,960 social work assessments by councils in 2017/18 – more than twice the 970 cases in 2016/17.
The children were found to have either already been subjected to FGM or were at risk of being subjected to it in the future.
The data also shows there were 1,630 cases of abuse linked to faith or belief in 2017/18 — a 12% rise on the 1,460 cases the previous year.
The Local Government Association (LGA) says the increase proves that FGM is still a national concern and that social workers are getting better at identifying cases.
The National FGM Centre, a joint initiative between the LGA and Barnardo's, says the FGM figures are 'alarming' and probably don't reflect the true prevalence of this 'hidden' crime.
'Whilst we are making progress in tackling FGM, these alarming statistics show it is still being practised in communities across England,' said Leethen Bartholomew, the head of the National FGM Centre.
'Even more concerning is that these figures are likely to just be the tip of the iceberg because many cases of FGM go undetected.'
Cllr Anita Lower, the LGA's lead on FGM and Chair of the National FGM Centre's Advisory Board, said: 'These figures show the worrying prevalence of FGM which is ruining lives and destroying communities.
'Social workers have become better at identifying the signs of FGM, but as this crime is under-reported, the true incidence rate of FGM is likely to be higher.
'At a time when they should be preparing for adult life and enjoying being young, no girl or young woman should be subject to the horrors of genital mutilation which is child abuse and cannot be justified for any reason.
'This is why councils are determined to tackle the practice of FGM and work alongside police, the NHS, and charities to make sure we do all we can to protect and support women and girls.'
The LGA also warned that the £3bn funding gap facing children's services by 2025 just to keep services running at current levels must be closed if councils are to effectively tackle FGM.
'To maximise the effectiveness of this prevention and intervention work, children's services departments need further funding to address the scale of demand for help from children and their families,' said Cllr Lower.
'Long-term funding for the National FGM Centre is also needed for its vital, specialist work in communities to prevent FGM in the first place, and to develop expert knowledge to build relationships with families which can safeguard against this horrific kind of assault.'