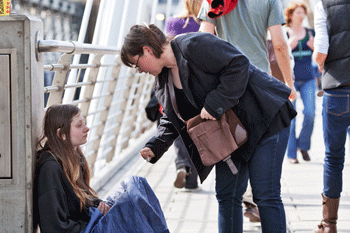 A pilot back-to-work scheme for some of the most vulnerable homeless people in London has received backing from senior government ministers.
The project, run by homelessness charities Crisis and St Mungo's Broadway will help 100 single homeless people gain the skills needed to get into work over two years.
'Many homeless people simply want to work hard and get on in life, but finding work is a real struggle if you don't have basic skills in maths, English and IT,' said housing minister Kris Hopkins. 'That's why we're supporting the STRIVE programme.'
The London STRIVE (skills, training, innovation and employment) pre-employment programme will provide 50 people a year with the skills an opportunities to have an independent future. Participants will build up their basic IT, maths and English skills and get their confidence to a level that will hopefully open doors to further training or employment.
Crisis chief executive, Leslie Morphy, said: 'The crushing experience of homelessness leaves individuals feeling very vulnerable.
'This new pre-employment programme will help us reach more people, getting them back on their feet and leaving homelessness behind.'
STRIVE will work alongside Jobcentre Plus to identify those who would benefit most from the scheme.
Skills and enterprise minister, Matthew Hancock, added: 'It is wrong that until now excellent education projects led by St Mungo's Broadway and others have been denied government funding – today we are putting that right. There is no doubt that charities like St Mungo's Broadway and Crisis are the best placed to reach those in need of help, but we are backing them in this vital task.'
Photograph: i4lcocl2 / Shutterstock.com