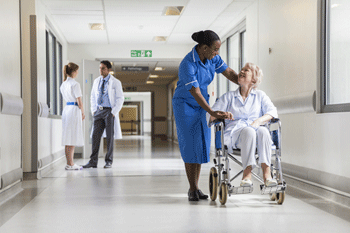 Council leaders have warned the reported rise in emergency hospital admissions will only be addressed with a long-term, sustainable approach to funding adult social care.
New research by the Health Foundation found the number of emergency hospital admissions in England has risen by 42% over the past decade. It also found one in three patients in 2015/16 had five or more health conditions, up from one in ten in 2006/07.
People are also arriving at A&E sicker than before and more likely to require admission, according to the research. For patients with multiple health problems or aged over 85, this figure has increased by nearly 60% over 10 years.
The Health Foundation said more effective primary care and better access to regular GP appointments could help reduce admissions.
In response, Cllr Izzi Seccombe, chairman of the Local Government Association's Community Wellbeing Board, said: 'To help reduce pressures on the NHS, adult social care needs to be given parity with the health service and councils need urgent funding to invest in effective prevention work to reduce the need for people to be admitted to hospital in the first place.'
She added: 'Essential prevention work and early intervention services are also being hampered by a £600m reduction in councils' public health budgets by central government between 2015/16 and 2019/20.
'The LGA is calling for reductions in public health grants to be reversed by the Government, which will help to further reduce NHS pressures and costs increasing.'