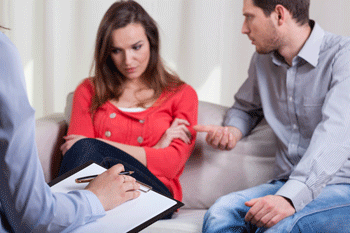 Relationship support services should do more to help poorer families, who are less likely to access support, a new report has argued.
The Early Intervention Foundation (EIF) found up to four out of every five service users are in paid employment, while three-quarters own their own home.
The report found middle-income families were more likely to self-refer to relationship support services, while those on low incomes were normally referred by other services such as health or housing.
The charity warned this meant children from some low-income families were being 'adversely affected' because their parents were unable to access support. It added that parents in poverty are more likely to be stressed, which can lead to increased levels of relationship breakdowns.
Carey Oppenheim, EIF chief executive, said: 'There is a great deal of potential to better embed a focus on inter-parental relationships within statutory services, such as schools, health and housing services – in particular, how to intervene early to prevent relationship difficulties between parents before they become severe and entrenched and impact on children.
'The idea of supporting parent relationships as a means of positively improving child wellbeing and parenting is still in its infancy, and has not yet been adopted by most service providers and commissioners.'
The report calls for relationship support services to be embedded in mainstream services – such as schools, health and housing services – so that more families at risk are identified and helped earlier.